Note: Impervious surface permit icons, land use icons, and livestock icons do not necessarily indicate exact locations. They are approximate locations on the same land parcel.
ROCKY FORK Begins near Mansfield/Ontario → goes through Mansfield → joins Black Fork River East of Lucas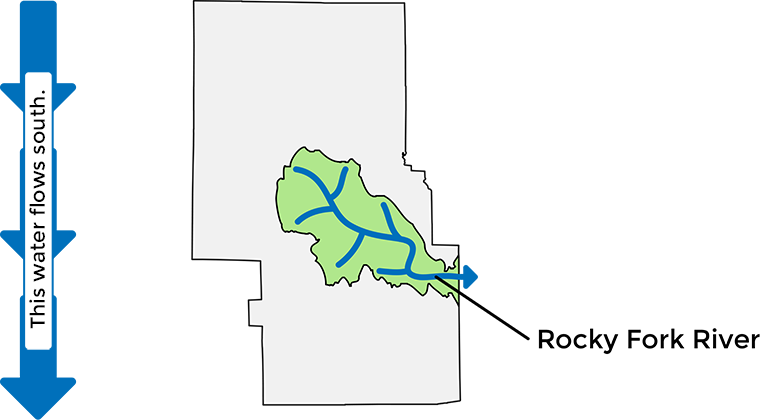 Soil Type in the Rocky Fork Watershed
Shoals-Chili-Wheeling
Fitchville-Luray-Bennington
Pewamo-Bennington
Rittman-Wadsworth
Bennington-Cardington
Wooster-Loudonville
Lordstown-Loudonville
Wooster-Canfield
Impervious Areas
Total Impervious Areas Created in the Rocky Fork Watershed* 2,705,851 sq. ft.
Residential Permits
(Homes, Pole Barns, Additions, etc.)
Permits
Year
Least Area Created
1,680
sq. ft.
2000
Most Area Created
264,353
sq. ft.
2003
Exemptions**
(Less than 2,000 square feet created)
Permits
Year
Least Area Created
6,390
sq. ft.
2008
Most Area Created
32,448
sq. ft.
2015
Commercial Permits
Permits
Year
Least Area Created
0
sq. ft.
2004, 2012
Most Area Created
314,885
sq. ft.
2009
*This figure does not include impervious areas from prior to 2000
**Agriculture is included in permit exemptions
Impervious Areas Created in the Rocky Fork Watershed by Year