Ponds can create a sense of serenity, a focal point, and a source of recreation on your property. They can also be used as a source of drinking water, fire suppression, and watering source for crops and livestock. Many people think that creating and owning a pond is as simple as digging a hole and letting it fill up with water, right? There are a lot of factors you must consider before installing a pond. Here are a few to consider:
What size pond do you want?
Do you have enough land to accommodate the pond size?
What types of soils are present in the proposed pond site?
Will the parent material at the site be sufficient for a pond, or will offsite material have to be brought in?
How much watershed do you have, and will it be sufficient to fill your pond?
How much do you want to spend on your pond?
Will it need a liner?
What type of aeration will be used?
Do you need soil inclusions and how will they be handled? This can pertain to pockets of wet soils – sand veins – gravel veins and large rocks.
All these things can add additional costs to your planned pond, and this is before you start looking at the design of the underwater structure itself. If this is for fishing then you will need to take into consideration the underwater structure the fish need such as areas for hunting, loafing, brood rearing, and hiding. Some of these items can be accomplished with differing depths of the water level and others can be accomplished by adding natural or artificial underwater structures for your feeder and game fish.
With advance planning, Richland Soil and Water Conservation District can usually be at the pond site evaluation. A backhoe is needed to dig several test holes. We want to be present as the holes are being dug to see the parent material coming out of the holes and feel the soil to see what potential the site may have for the pond.
If you decide to proceed with a pond, you need to take into account some design considerations:
Pond size
Excavation depth
Spoil pile size and ability to stabilize it
Primary overflow location and size
Secondary or Emergency overflow
Amount and size of riprap needed for the outflow areas
This is a lot of information to digest and think about. All too often people put upwards of 6 figures into a pond only to have it fail because someone convinced the property owner they "know what they are doing" only to end up with a large deep mud hole.
One of the resources available to you is the Web Soil Survey from the United States Department of Agriculture-Natural Resources Conservation Service (USDA-NRCS). This online tool can give you good general information about your property, but you must keep in mind that once you get below a certain aspect ratio the map may not be representative due to the possibility of soil inclusions. Therefore, a site visit while the soil is being excavated is necessary.
This list is not inclusive of all you should consider before installing a pond and some may not apply to your project.
We all love and enjoy our own ponds where we make memories from catching bluegill to family events and gatherings near our favorite spots along them. Now that we are into fall there are some considerations that you will want to take into consideration. Things like pond weeds like cattails, coon-tail, long-leaf pondweed, water millet, duckweed and the potential list is endless. Some of these aquatic plant species are considered ok to be there in lesser amounts but can point to larger problems that you may be aware of. Cattails while able to provide a food source, hunting, loafing, and rearing of distinct species of aquatic and terrestrial life can be an invitation to muskrats. Long-leaf pondweed, in substantial amounts, can be an indicator that your pond may have excessive sediment or heavy nutrient loading which can reduce the overall volume of water in your pond and habitat too. Duckweed and water millet while ok in small doses for aquatic species and waterfowl can completely cover a pond and create a green mat across your pond and should be addressed in the spring. The one thing that all these plants have in common is that most will soon be dying and decaying in your pond which can potentially be detrimental to your fish. One method for dealing with dying aquatic plants is to physically remove them. A second option would be to utilize a biologic control that will add good live bacteria to your pond to help breakdown plant and muck material. This will help add volume and longevity to your pond unless your pond is silted into a point that it may need to be dredged to regain its original volume. Low oxygen in the winter can cause a fish kill if the pond becomes frozen and snow covered. Removing the snow, approximately 25-50%, can provide sunlight to plants that can over winter and provide the much-needed oxygen to your fish. Another option to keep the snow off a pond is to add an aeration to your pond by adding air stones that will add supplemental oxygen to your pond keeping your fish alive and assisting in breaking down plants and muck.
Pond Types
Embankment Ponds
Embankment ponds are more common in areas with moderate to steep sloping terrain. They are created by building a dam or embankment between two hillsides to collect and hold water from overland runoff. The pond bottom and dam must be made up of soils that prevents excess seepage. Embankment ponds should not be built by damming permanent flow streams, no matter what size they are. Small steams are a source for silt, sediment, debris, excess nutrients, and undesirable fish, all of which can degrade water quality and reduce chances of good fishing.
Dugout or Excavated Ponds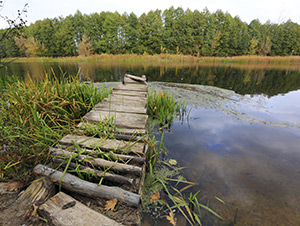 Dugout or excavated ponds are constructed in areas of flat or gently sloping land not suited for ponds with dams. As the name implies, dug ponds are created by removing soil and allowing water to fill in the dugout area. Most of the water supply comes from ground water seepage or natural springs. Soils are usually made up of materials that allow free movement of water through the pond bottom.
Pond Components
Dam or Embankment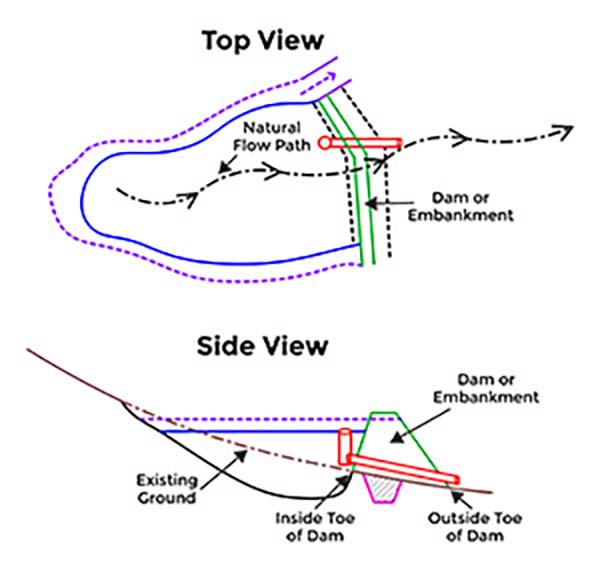 A barrier constructed out of soil across a watercourse or natural drainage area to permanently impound, trap or store water.
Spillway
A pathway for excess water to exit a pond or lake. Spillways are designed to maintain the water level under normal inflows from snow melt, spring flow and rain. They are also called overflows. There are two types of spillways: Principal and Emergency.
Principal
The principal spillway is responsible for maintaining the pond water at a desired level. Whenever water enters the pond and the level rises, water first exits the pond through this spillway. They are typically constructed out of pipe (metal, plastic or concrete) or any type of concrete structure.
Emergency
The emergency spillway is responsible for protecting the dam. Whenever so much water enters the pond and the principal spillway cannot carry it all out of the pond, the emergency spillway provides a stable pathway for the excess water to flow around and not over the top of the dam. If water were to flow over the top of the dam, it can begin to erode the structure quickly causing a total dam failure and potentially causing significant property damage downstream.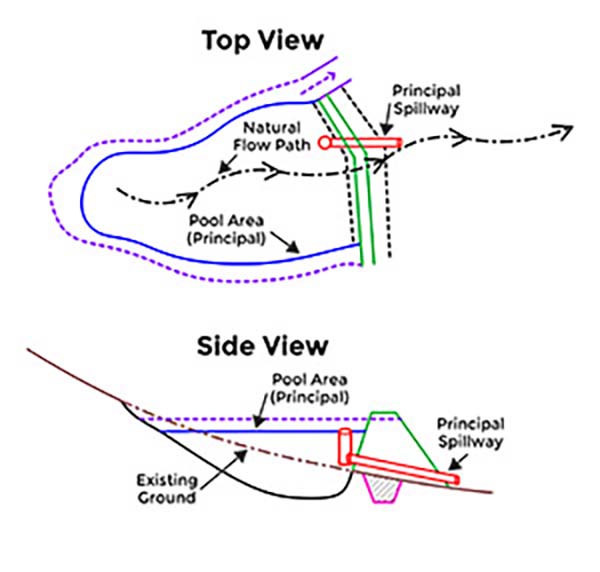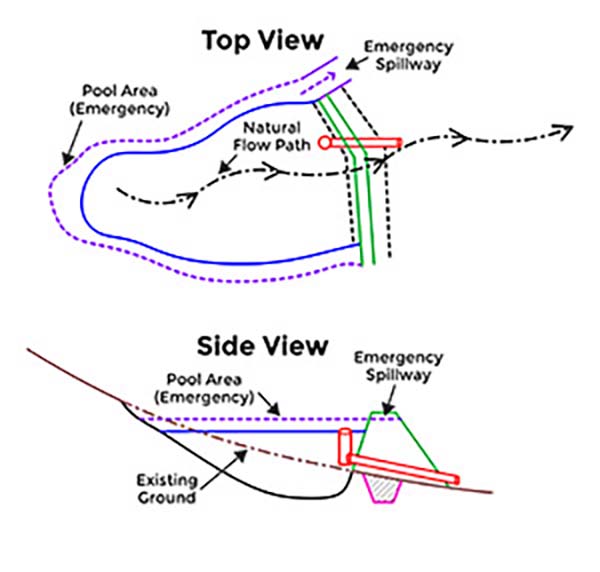 Core Trench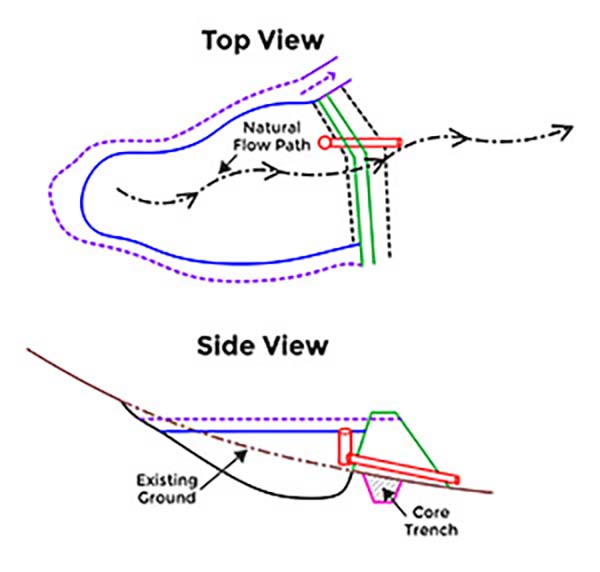 A trench constructed in the undisturbed foundation soil under a dam or embankment. It is constructed in a way to stop water from seeping beneath the dam.
Pool Area
All of the land area that will be under water after the dam and spillways are constructed.
Site Selection
Before getting to the point of actually constructing a pond, it is a good idea to take a close look at your site. This can help you visualize how much property a pond can take up. Also, it can help you plan to keep proper setbacks from: buildings, driveways, septic systems, wells and property lines.
Flag Marking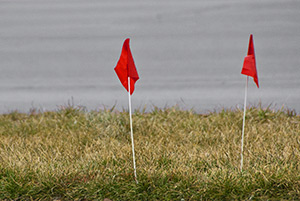 Use highly visible flags to mark out important pond components such as:
Dam or Embankment: Make sure to consider the total overall width of the dam. This includes not only the top width, but also how far the inside dam toe and outside dam toe will extend. Example: a 6' high dam with a 2:1 inside side slope and a 3:1 outside side slope and a 8' Top Width, would take up 38' of total width!
Regular Water Level: Mark where the water level of the pond will be during its normal elevation.
Emergency Water Level: Mark the water level where the pond water will be overflowing out of the emergency spillway.
Spillway Locations: Mark where you will outlet the principal spillway and mark where the emergency spillway will be located.
How to Build a Pond
Constructing a pond can be a complicated and expensive process. Therefore we recommend you seek a professional engineer and/or a professional excavation contractor to design and/or construct your pond. The following items are good general construction practices that should be followed when constructing any pond. Become familiar with these practices so that you can question prospective engineers or contractors on how they will accomplish these practices.
Remember: If you decide to construct a pond, you will need to apply for a stormwater permit. Visit the Stormwater Documents page for info.
Topsoil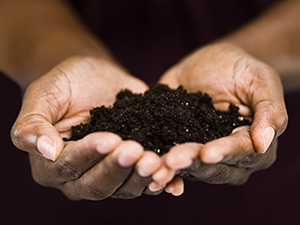 Topsoil is a valuable resource. In nature it can take over 500 years to form an inch so you do not want to waste what you have. Before excavation begins, the first step should be to have the topsoil stripped off any areas where digging will happen. The topsoil then should be stockpiled in an area where it can be retrieved when construction is complete. It can then be re-applied to all areas to be re-seeded. The new seeding will have a much better success rate if it is established in topsoil rather than unfertile sub-soil.
Removal of Exposed Rock & Tree Roots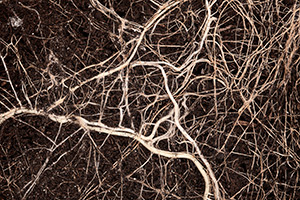 Often ponds are excavated in an area not conducive to a pond, such as wooded areas or reclaimed land. It is crucial to remove all rocks, tree roots and vegetation from the dam area as well as the emergency overflow to be able to achieve good compaction.
Compaction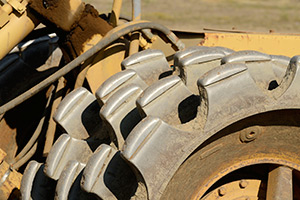 Compaction is a very important practice in pond construction, especially when constructing the core trench and dam. Proper compaction is achieved from 3 main components: Soil type, soil moisture and compaction method.
The soil should contain a mixture of silt, clay and sand to achieve the best compaction. A mixture too high in clay will make it hard to obtain the proper moisture content, become too sticky if too wet and when the soil dries out it can shrink and crack, creating potential leaks. Too much silt and the soil will not compact together at all, it will spread out during compaction rather than building up higher and higher. If a soil has too much sand, it will also not compact, and it will also allow water to move through it too easily.
A good guide to soil moisture content can be obtained from a simple field test. When soil moisture is at the best level for effective compaction, you should be able to roll the soil between your palms into a thread (about the thickness of a pencil) that just begins to crumble on further rolling. If the soil thread crumbles before it reaches pencil thickness, it is too dry. If the thread can be rolled to a thickness much less than a pencil, then it is too wet.
As far as compaction methods are concerned, the soil used to build the core trench and to form the embankment should be placed in 6" layers, with each layer thoroughly compacted before the next layer is placed. A layer of more than 6" of soil before compaction is not recommended. The number of passes that should be made by the compacting equipment depends on the soil type, but it should be at least four. Preferably, compaction should be achieved with a sheepsfoot roller. However, a heavy rubber tired machine or a loaded pan may be satisfactory, depending on the soil behavior and the layer thickness and the ability to compact the entire surface. (Bulldozers do not offer adequate compaction.)
Core Trench
A core trench can reduce the chances of water seeping underneath the dam. A core trench may be built along the entire length of the dam. To create a stable core the trench should be at least 3 ft deep and no steeper than 1:1 and the width of the equipment used. The trench should be backfilled with good clay that is thoroughly compacted by a heavy rubber tire or sheepsfoot roller. All dams should have a core trench!
Spillways
Spillways should be constructed of adequate size and new, durable materials. Keep in mind that repairs on existing spillways can be very expensive and may require your pond to be emptied, so it's best if the spillway lasts for a very long time. Also, if a spillway is not of adequate size or fails, your dam may become damaged or lost (both expensive to repair).
How Richland SWCD can Help
Site Investigations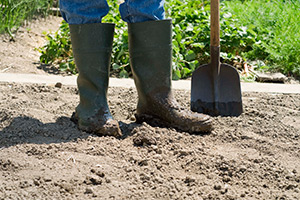 An appointment may be made with a technician to visit your site, where we will discuss the particulars of your site that will determine whether or not the site is physically and monetarily feasible for a pond. These particulars include:
Site Topography: How the lay-of-the-land lends itself to the placement and type of pond being considered.
Watershed: Whether the pond site will have enough watershed acres to supply the pond with the proper amount of water. Generally, a 1-acre pond should have 10–15 acres of watershed.
Soil Types: By looking up the soil types of the site in the Richland County Soil Survey, the technician will be able to determine if the soils mapped for the site have the characteristics needed to hold water and/or construct a dam.
Soil Test Hole Investigations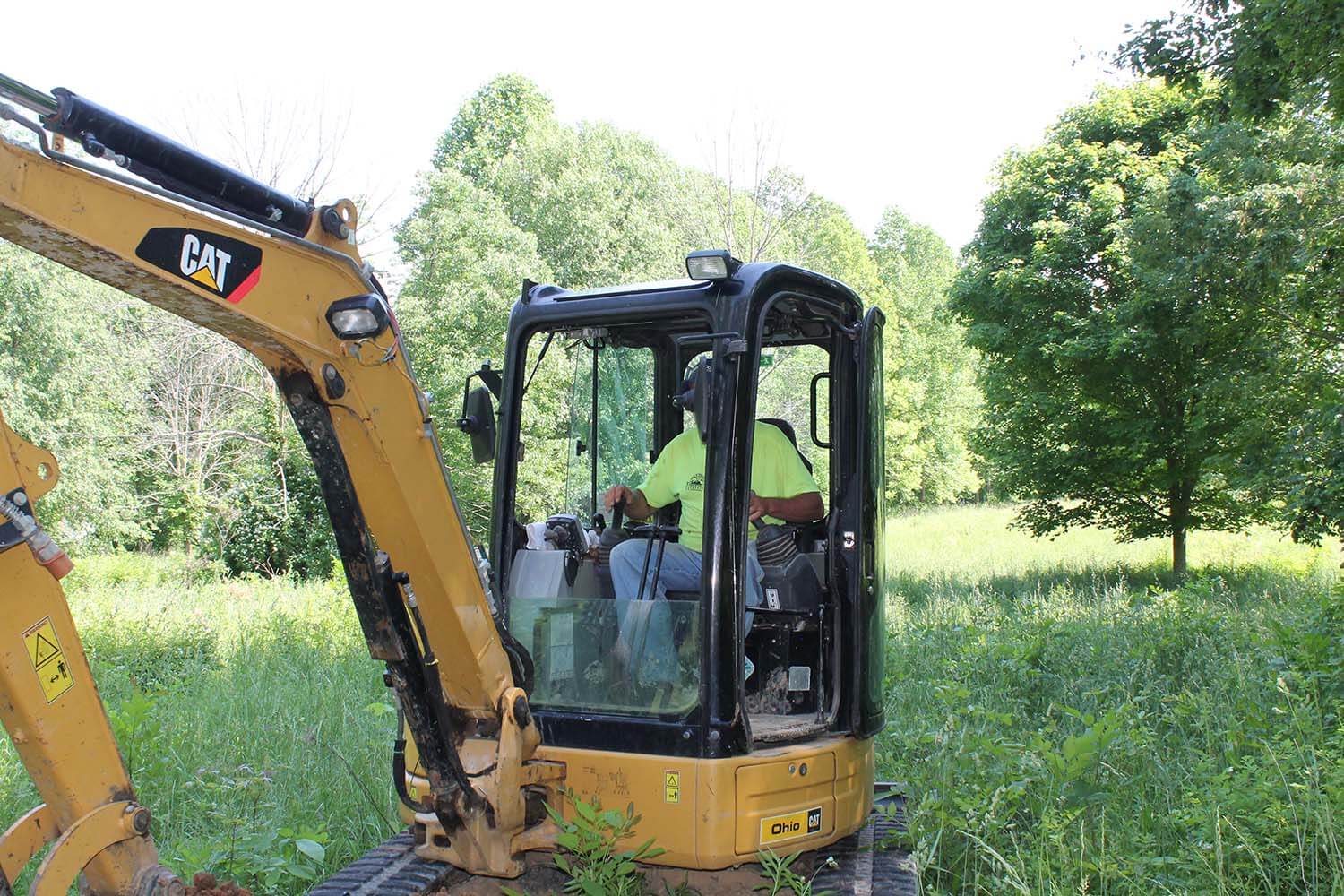 If the site has been determined to be suitable to build a pond and the landowner wants to go to the next step, the District will schedule a Soil Scientist to personally look at the soils and give his professional opinion on the soil suitability for pond construction.
The District needs time to schedule an appointment with the Soil Scientist. Once we determine that he is needed, we will contact him and get a few dates that are available.
The landowner is responsible for supplying a backhoe that is capable of digging at least 2 feet below the deepest planned excavation. (Ex. If a pond is going to be 8 feet deep with a dam of 3 feet, then the pond area will have to be excavated 5 feet deep, the backhoe will then have to be able to dig a hole 7 feet deep to be 2 feet below the deepest excavation)
The holes must be dug while the District staff is present. It is important that the soil from the pit is seen as it comes out of the ground.
The Richland Soil and Water Conservation District does not offer design services for ponds at this time.
Additional Links for New Ponds
Maintenance
Ponds require maintenance to keep them operating properly and to maintain the desired appearance.
Periodic Sediment Removal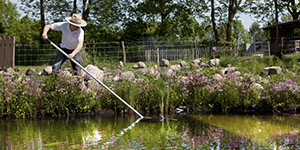 Every pond eventually will fill up with leaves, silt, dead water plant material, etc. It is the natural process of a pond, it will eventually convert into a wetland type area.
Dam Maintenance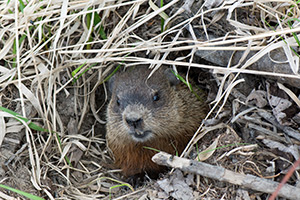 It is important to maintain the dam because it's a key component to your pond.
Trees and bushes should be removed from a pond dam. The large roots of trees and bushes grow into the dam soil, creating holes and voids which can weaken the structure of the dam. If the dam is weakened enough, it can fail, emptying the pond and potentially causing damage downstream.
Burrowing animals such as groundhogs and muskrats should be removed immediately if they are found digging near or on the dam. Their burrows can cause severe damage to the dam. Once removed, their damage must be repaired.
Spillway Maintenance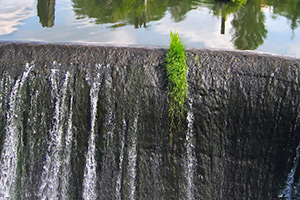 Spillways control the water level of your pond. If not maintained, water could flow over the top of the dam or cause the spillway to fail completely, both causing significant damage to the dam.
Periodically inspect the spillway to check for and remove debris blocking water flow.
Problems
Experiencing concerns with your pond's appearance or function?
High Water Level
This is most likely due to the principal spillway being either blocked with debris or some other type of blockage disturbing flow.
Low Water Level
There are a few potential causes for a low water level.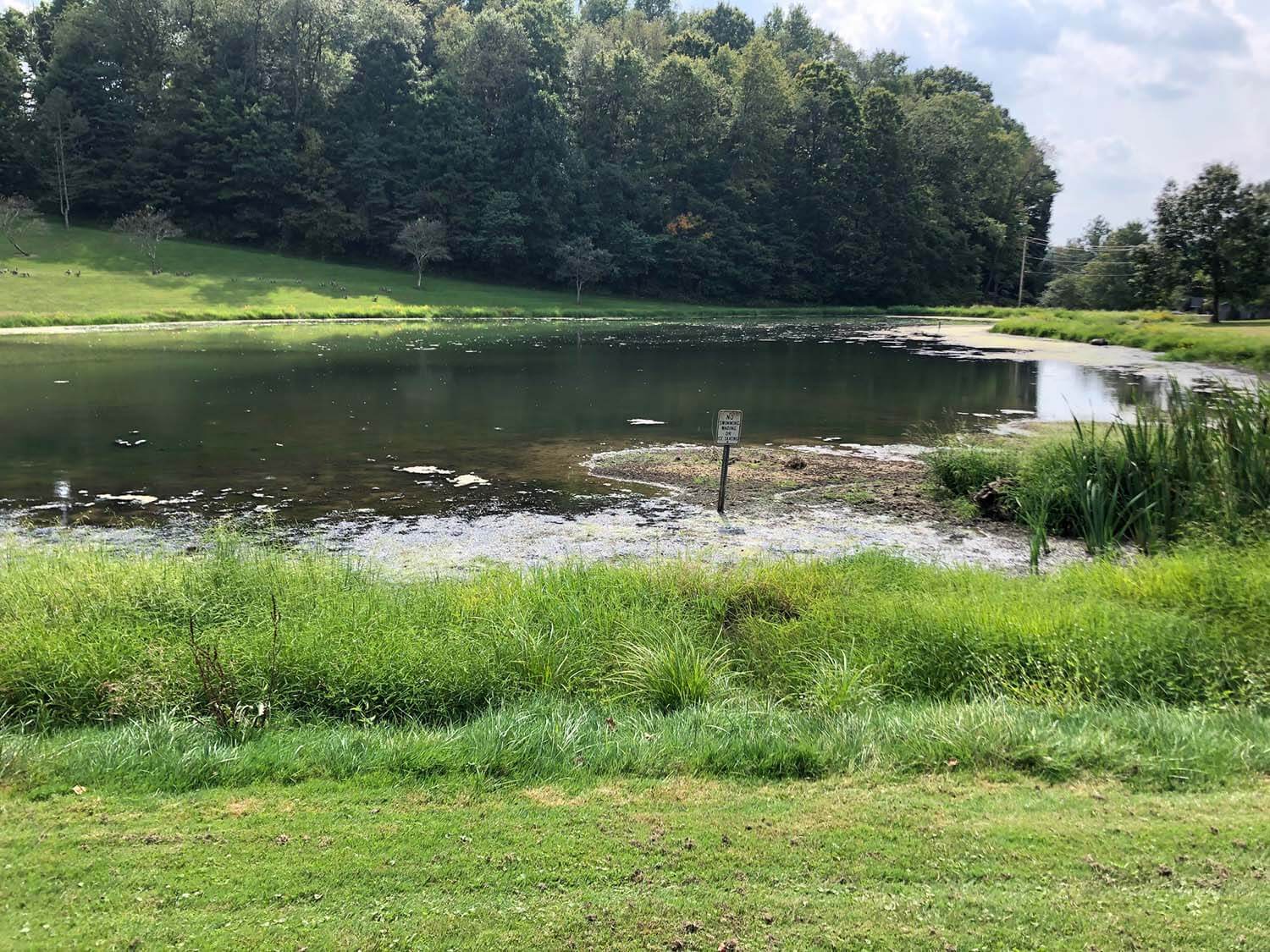 Drought/Minimal Rain Conditions
Most ponds are refilled with rainfall, so during drought times pond levels can drop significantly due to evaporation.
Leaking Dam
A weak point has developed in the dam causing pond water to drain through the dam itself.
Indications:
Wet areas on backside of dam, with standing or trickling water.
Change in vegetation type or existing vegetation is greener in a certain area.
How to Fix:
Contact an excavation contractor to discuss methods and price.
Failing Spillway
The principal spillway has developed a weak point somewhere in the structure causing pond water to drain at a lower point than what the spillway was designed for.
Indications:
Water flowing within spillway & not over normal lip.
Water flowing along the side of the outlet pipe instead of through the pipe.
How to Fix:
Contact an excavation contractor to discuss methods and price.
Weeds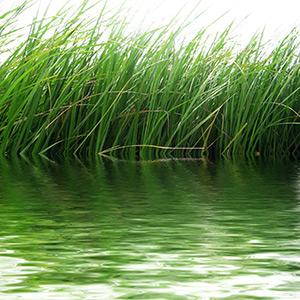 Excessive plant growth along the pond edge or deep in the pool causes an unsightly or unhealthy pond.
Mechanical Control: Plants are physically removed from the pond either by hand or excavation equipment.
Biological Control: Organic methods are used to inhibit or kill undesired plants.
Chemical Control: Chemicals specifically designed for aquatic plants are used to kill or inhibit growth of pond weeds.
Wildlife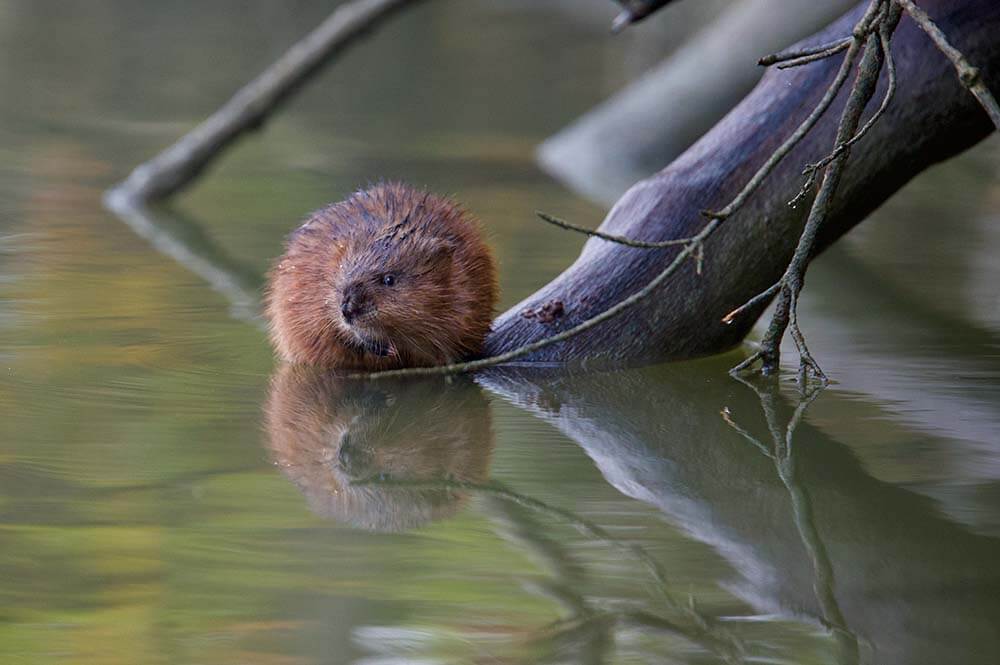 Wildlife causing damage to pond structure or eating a large amount of stocked fish. Contact Richland County Wildlife Officer for proper methods and permits for removal of nuisance wildlife.
Additional Links for Existing Ponds